Welcome to
Kilkenny Walking Tours
Kilkenny Walking Tour will bring to life the stories and characters of Kilkenny's Medieval history which established Kilkenny as one of Ireland's most successful Medieval Norman inland cities in Ireland.
This Walking Tour will make you go away and read more about Medieval Kilkenny. What will you see & hear about! Kilkenny witch, Dame Alice Kyteler and Shee Alms House. Meander through the famous Slip ways, Tholsel Story of Kilkenny Cats, Oliver Cromwell City Walls, & Gate Ghost Stories Churches, Kilkenny characters of times past.
Discover much more on this famous Kilkenny Walking Tour.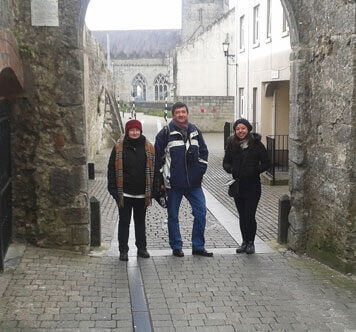 Walking Tour Highlights
Tholsel
Shee Alms House
Hole in the Wall
Butter Slip
Market Slip
St. Canice's Cathedral
St. Francis Abbey
Alice Kyteler
Cardinal Rinnuccini
John Rothe
Kyteler's Inn Witches house
Old City Jail
Rothe House
Black Friars Gate & City Wall
Black Abbey
Winner 2022
Best Historical
Tour Operator Kilkenny

Awards 2022
ROI 2022
Best Specialist
Walking Tours Business
Bespoke Private Tours
Book Pat for your Private Kilkenny Walking Tour
If you wish to book Pat for your very own Private Kilkenny Walking Tour, give Pat a call on 087 2651745 or e-mail [email protected] and he will explain your walking tour details including a time that suits you.
Read More
Kilkenny 2022
Our Tours
Pats Ruby Tour: This extended Walking Tour includes the Eastern environs of Kilkenny which was also part of the medieval...
View Tour
St. Canice's Cathedral: The first monastery was built here in the 6th century by St Canice, Kilkenny's ...
View Tour
The Medieval Mile Walking Tour Highlights are: Kilkenny Castle and the ghost in the White Dress ...
View Tour
Travel with the Local People and Learn the Secrets
Experience the Best that
Kilkenny Walking Tours has to Offer
Choose from a wide range of Kilkenny, including guide, sightseeing and family-friendly options.

100% Secure
Tour
Easy Online
Booking
Award Winning Service
Personalized Tours are Available
Experienced Travel Guide
We are available to help you
087 2651745
Testimonials
What People Say About Us
Fantastic walking tour
Fantastic tour & Pat the guide was extremely knowledgeable. No gimmicks like other tours just lots on interesting stories & bit of banter.
joannemcauley2002September 2021
Family of 5 weekend walking tour, superb
Pat gave a great presentation of Kilkenny showing us the main landmarks and his knowledge of the city is incredible and detailed. Every place he showed us was historic and interesting to hear about
Definitely worth doing!
It was just the four of us on our tour and we found it very enjoyable and informative. Pat had a lovely manner and certainly knows his stuff. We would say it is definitely worth doing. Thanks again Pat.
Excellent walking tour - don't miss in Kilkenny
Pat Tynan presents his city superbly . He knows every aspect of it and conveys his story in a fresh and interesting fashion. I really enjoyed his tour. Great value
Pat Tynan and his passion for local history
As part of our research before leaving for our trip of Ireland, we read about the tour that Pat Tynan conducts on Trip Advisor. We walked to the Information Centre from our B&B in pouring rain and as we were a bit late the receptionist kindly contacted Pat on his mobile and we caught up with him at the Town Hall. Pat's passion for Irish history made the one hour tour very interesting. Well worth the 10 Euro cost.
Great tour of the Medieval Mile with Pat
This tour leaves from the tourist information office each day at 2pm. The tour guide Pat is a local who clearly cares about his city and knows a great deal about it. The tour is very good with a lot of local information and history. Definitely worth the €10 we paid
Highlight of our trip to Kilkenny
This walking tour with Pat Tynan is excellent. It brings the history of Kilkenny to life. Pat is very knowledgeable but also takes account of the interests and questions of the people on the tour.
It's an authentic experience and you feel like you've had a chance to connect with a local who loves the city and its history.
Pat Tynan's Tour
We went on a small group – just us – tour. Pat was extremely knowledgeable and gave a great introduction to the history of Kilkenny.